The Ultimate Guide to Valentine's Day Cannabis Gifts
Valentine's Day is a special time for all of us to show our love for those who are important to us, and what better way than with an extra-special gift from The HoneyComb Farm in Wilton, Maine? If you're looking for something unique and meaningful this Valentine's Day, you can find unique items at the HoneyComb Farm! Among our high-quality cannabis products, you're sure to find many ideal cannabis gifts for your loved one this Valentine's Day. 
Benefits of a Cannabis Gift
Cannabis-based presents are a unique and considerate way to express your love. Cannabis can help alleviate anxiety and create emotions of relaxation and tranquility for many patients, which makes it an ideal Valentine's Day gift for a partner or friend who is stressed or needs to unwind.
Giving a cannabis-themed gift can be a fun and memorable way to show your spouse or friend how much you appreciate them. 
If you wish to give an original and considerate Valentine's Day gift other than cannabis, there are plenty of choices. The HoneyComb Farm offers various products, including flower, edibles, pre-rolls, oils, topicals, and concentrates, for every taste and budget.
It's a good idea to gift Wilton Maine cannabis to someone you know who uses it regularly or is curious about trying it. Here are a few indicators that someone could value a present with a cannabis theme:
A partner who has previously discussed using CBD or cannabis or uses regularly

They reside in a state where cannabis is legal for either recreational or medicinal use

Expressed curiosity and wanting to try cannabis for its potential health benefit

Likes to explore or generally open to trying new things and researching the possible advantages of cannabis
Cannabis Gift Ideas
These Valentine's Day cannabis gifts will allow you to express affection for your significant other while demonstrating your appreciation for cannabis. 
Gift Basket Full of Edibles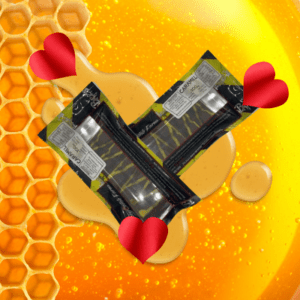 Giving your lover or a friend an edibles-filled cannabis Valentine's Day gift basket can be a lovely gesture. 
A selection of sweets or chocolates infused with THC, such as chocolate bars, truffles, and gummies.

THC-infused honey or syrup is used as a sweetener or topping on various foods, including pancakes and waffles.

Cooking oils are laced with THC to create a range of cannabis-flavored foods, like brownies, cookies, and spaghetti sauce.

Beverages containing THC, such as sodas, teas, and coffees, are nice and practical methods to ingest cannabis.

THC-infused crackers, nuts, or popcorn can be combined with your partner's favorite snack to create a THC-infused snack mix.
1. A Bouquet of Cannabis Flowers
A selection of dried, clipped Wilton Maine cannabis buds artfully arranged into a bouquet of cannabis flower is sure to beat the socks of a standard bouquet of flowers.
2. A Box of Pre-Rolls
A package of pre-rolls can be a special and meaningful gift that includes a variety of rolled cannabis cigarettes that are ready to smoke.
3. Vape Pens and Cartridges
Vape pens and cartridges are frequently more portable than other smoking implements and can be a discreet and practical way to ingest cannabis.
4. Topicals
Balms and lotions with CBD-infused ingredients are calming and nourishing topicals and concentrates for the skin. These items are non-psychoactive and can be used topically; as a result, they won't leave you feeling "high" like those with THC.
5. Stash Box, Flower Arrangement, or Stash Jar
A creative and unique way to express your love and gratitude for your spouse or friend is by making a special stash box, flower arrangement, or stash jar. Making them involves the following steps:
Step 1
Select a few buds your recipient will like and the cannabis strain of their choice.
Step 2
Put your supplies together in a box, jar, or vase for your stash, and to give your gift a special touch, you will also need ornamental components like ribbon, twine, or flowers.
Step 3
Place the buds in your container carefully, adding decorative accents for a unique look. You may add fresh flowers, ribbon, or twine to a bouquet of buds for a romantic touch.
Step 4
Consider including a handwritten message or card with your present.
Get quality Maine cannabis from Honeycomb Farm in Wilton, Maine
When giving a cannabis gift, consider the recipient's tastes and interests. Any cannabis-related gifts should also be given only to those of legal age and where such gifts are permitted.
The Honeycomb Farm in Wilton, Maine, is the best place to go if you're looking for top-notch cannabis from Maine. Our team of skilled growers is committed to creating top-notch cannabis strains that are certain to satisfy and delight. There is something for every taste and price range among the items we provide, which include flowers, edibles, pre-rolls, oils, topicals, and concentrates.
Visit our Wilton location to review our products or get in touch with our helpful staff.
Address
844 US 2 E
Wilton, Maine US 04294
Business hours
Monday – Saturday 2:00 pm – 6:00 pm
Sunday – closed